In this article, we will review some budget headsets for gaming. In the budget headset scene, the key point is to be punctual when you find a product. Since all of the products we will review are below 100 dollars, their stock may extinct easily. Lucky for you all of the mentioned comfortable headsets have high-quality sound. If you are looking for a headset for gamers that you will enjoy while gaming, we have the article for you! Just scroll down and you will find various types of headsets in the given price range that will provide high-quality audio and detailed audio. Let us examine some of the affordable gaming headsets of the market for you to look at before you can find your favorite headset amongst these cheaper headsets.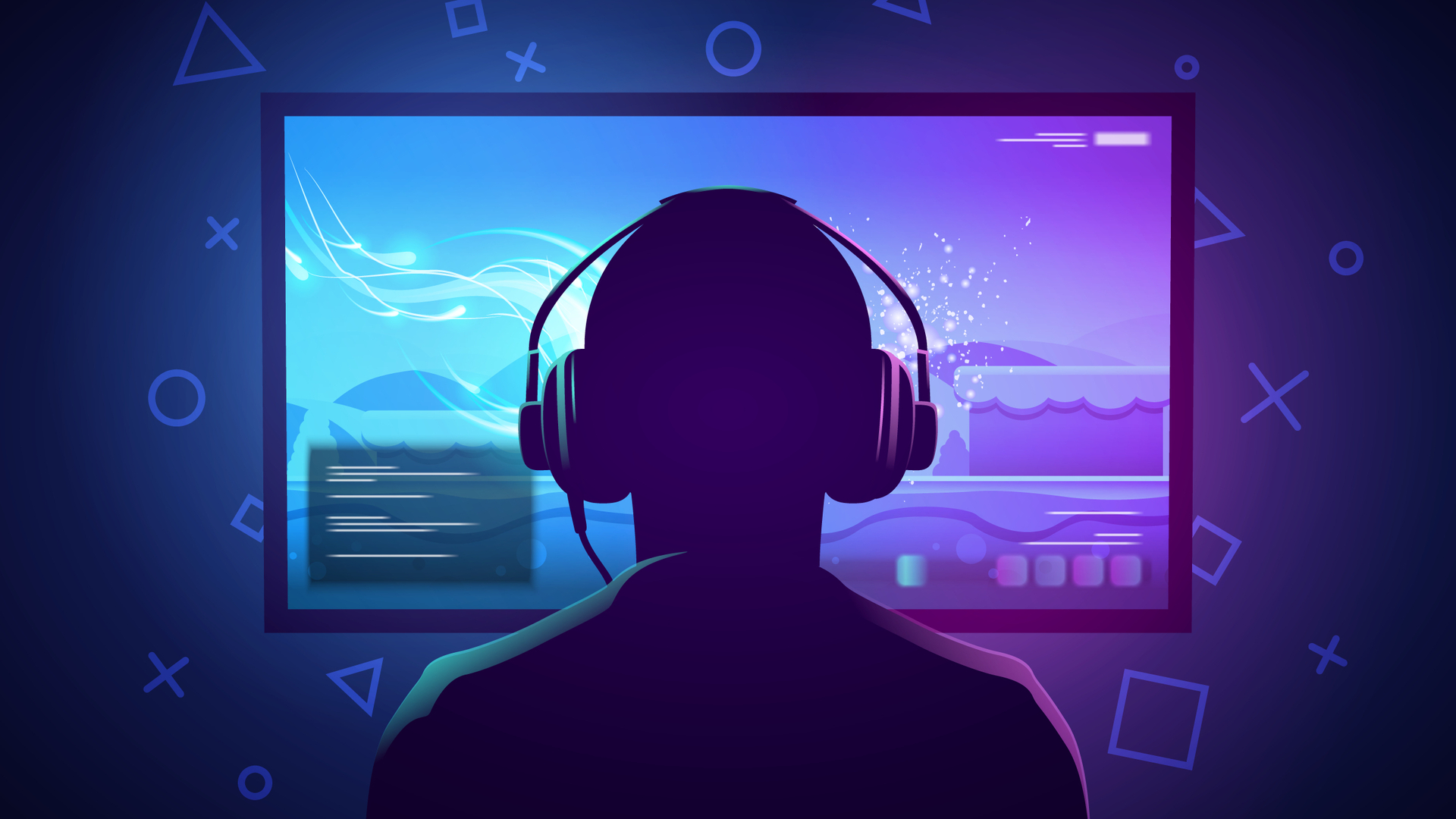 Razer Kraken V3 X Gaming Headset: 7.1 Surround Sound – Triforce 40mm Drivers – HyperClear Bendable Cardioid Mic – Chroma RGB Lighting 
As one of the cheaper headsets, Razer's Kraken V3 X combines a comfortable ear cup design with powerful audio output, a superb microphone, and software that substantially enhances the experience to compete with the top gaming headsets without breaking the budget. These headphones include RGB illumination on the ear cups that you can customize in its companion app to complement your style better. They're only available in one color: 'Black.'
The ear cups of the Razer Kraken Gaming Headset are made of fake leather on the outside and a cloth-like substance on the inside that feels wonderful against the skin. Along the center of the headphones, there is also some leather padding. They're a little hefty, as you'd expect from gaming headphones, and the ear cups have a restricted range of motion and flexibility. The Razer – Kraken Wired Gaming Headset is composed of lightweight plastic, yet it feels quite robust. The unit's Hybrid-Fabric memory foam ear cushions are deliciously soft, and the headband is easily adjusted to fit your head comfortably. The flexible Razer Hyper Clear cardioid microphone, which is fairly bendy, has a volume knob and a mute button on the left earcup. These knobs are used as audio controls for you to control your game audio and chat control. The Razer Kraken V3 X is comfortable to use for long periods since, unlike many other over-the-ear gaming headphones, it does not become too hot or heated.
The Razer – Kraken Wired Gaming Headset has a pair of Razer-designed 40mm Triforce speakers that deliver thundering distortion-free bass and smooth sound across the audio spectrum. The HyperClear cardioid microphone included with the Razer Kraken V3 X has a rated frequency response of 100-10,000 Hz and a sensitivity of -42dB. It's incredibly bendy and flexible, and it does a great job recording sounds. The controls on the Razer Kraken V3 X are subpar, which is to be expected from entry-level gaming headphones. On the left ear cup, there's simply a mic-mute button that seems clicky and a volume wheel. However, these two settings are simple to operate, and the mic mute button is indented to indicate when you're muted. The volume wheel, on the other hand, is devoid of notches that indicate when you've reached the lowest or maximum volume. 
The breathability of these audiophile headphones is adequate. They trap heat, which may cause your ears to get heated over time. Because they aren't designed for athletics, you may sweat more than normal when wearing them. If you're wearing them while gaming, though, it shouldn't be an issue. Like other gaming headphones, the Razer Kraken V3 X isn't extremely portable. They're big, don't fold up into a little package, and don't come with a carrying case. The build quality of the Razer Kraken V3 X is adequate. Because they're primarily comprised of plastic, they're extremely comparable to the Razer Kraken X. The ear cups and headbands include faux leather cushioning, while the audio cable is encased in a silicone-like substance. The cushioning, on the other hand, seems cheap and flimsy, and the audio cord isn't removable, so you'll have to replace the headphones if they become broken. When the mic mute button is pressed, it creates a spring-like noise, which some users may not enjoy.
The Razer Kraken V3 X is quite stable. If you're gaming, they shouldn't fall off your head, but they can move about with higher-intensity movement. Their audio cord isn't detachable, so if it gets snagged on something, the headphones might be pulled off your head. The sound profile of the Razer Kraken V3 X is quite warm and dark. These audiophile headphones produce a lot of booms, which might make your game's sound effects stand out. They do, however, lack a thumping low-bass. Video game dialogue is likewise lacking in-depth and articulation, while soundtrack lead instruments are veiled and lispy. Inconsistent bass and treble output are also a problem with these headphones. Each time you use them, their location, seal, and whether you wear glasses or thick hair may all impact your listening experience. They don't have an equalizer, thus you can't adjust the sound to your taste. The sound quality and the quality microphone will make you feel pleased with your decision.
Corsair HS70 Bluetooth – Wired Gaming Headset with Bluetooth-

Works with PC, Mac, Xbox Series X, Xbox Series S, Xbox One, PS5, PS4, Nintendo Switch, iOS, and Android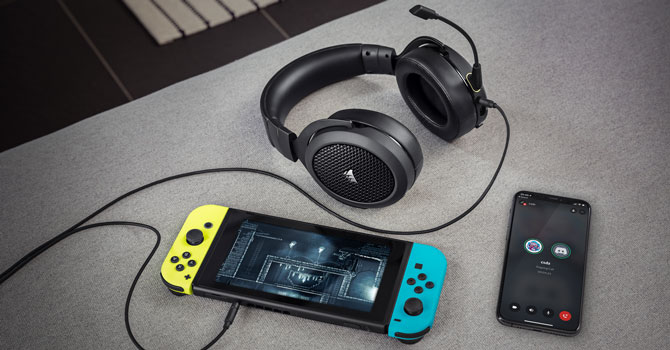 The Corsair HS70 Bluetooth are Bluetooth-enabled wired gaming headphones. You may get distinct audio from your wireless device and console at the same time thanks to their design. They're comfy, offer a long continuous battery life, and can be customized with Corsair's iCUE software if you want to. The Corsair HS70 Bluetooth looks very similar to the Corsair HS70 Wireless, however owing to their all-black design, they have a more subdued and streamlined appearance. These cheap headsets may easily adapt into casual use thanks to this detailing and removable boom microphone. The Corsair HS70 Bluetooth headphones are really pleasant to wear. They don't cling to your head too firmly, and the ear cups and headband are both well-padded. They should be comfortable enough to play for long periods without getting too tiring. The swiveling hinges, on the other hand, do not have a large range of motion.
The controls on the Corsair HS70 Bluetooth are adequate. A volume control wheel on the left ear cup stops at min/max volume. There's also a clicky mic mute button with a beep to indicate whether it's on or off. However, if you're already wearing the headset, there's no way to determine if the mic is muted or not, albeit a voice prompt informs you of its status when you connect to a PC via USB for the first time. The power button on the right ear cup also serves as a multi-function button. A single push when connected to Bluetooth answers and stops calls, as well as plays and pauses audio. A triple-press returns to the previous track after a double-press skip the track forward.
The Corsair HS70 Bluetooth doesn't have a lot of portability. They're big and thick, and the ear cups can't swivel to lay flat to make them smaller. When you're on the road, you can conveniently remove their boom microphone. They also include Bluetooth capabilities, allowing you to connect your smartphone to them without the use of a wire. The build quality of the Corsair HS70 Bluetooth is excellent. They're composed of plastic with metal hinges and faux leather padding, just as the Corsair HS70 Wireless and Corsair HS75 XB WIRELESS Gaming Headset. Although the fabric lining inside the ear cups may be prone to rips or tears over time, they appear to be robust overall. Overall, the sound quality and this cheaper headset's ability to block the ambient sound will mesmerize you.
Alienware 7.1 PC Gaming Headset AW510H-Light: 50mm Hi-Res Drivers – Noise Cancelling Mic – Multi-Platform Compatible(PS4, Xbox One, Switch) via 3.5mm Jack
While the AW510H headset comes with dedicated drivers, it lacks the specific software that Turtle Beach and SteelSeries devices are known for. This means you can't modify your audio beyond the level, although thanks to the Alienware headset's 7.1 virtual surround sound, that's less of an issue. A hefty remote runs down the wire, allowing you to change the volume and activate the mic mute. On PCs, it can connect by USB or 3.5mm audio jack, but consoles can only connect via 3.5mm.
Even though the fun gaming headset is light and comfortable to use, it also has a lot of noise cancellation. Just don't make it too loud, or you'll miss the delivery you've been anticipating. Alienware's reputation for making sleek, clean-looking peripherals has held up well in this instance. This beginner headset is a smooth matte black headband with the iconic alien emblem engraved on the sides of both ends (also available in silver). This affordable headset is lighter than most rival headsets, which means it's ideal for lengthy gaming sessions when paired with the cushioned headband and perhaps the most comfortable ear cups I've ever worn on a gaming headset. In addition, the lightweight of this beginner headset makes it comfortable to wear in hotter climates.
The Alienware AW510H has a retractable microphone that fits snuggly within the left ear cup, so it won't be in your peripheral vision if you're merely listening to music or playing a single-player game. However, this headset is hardwired, which may be a deal-breaker for some. The absence of wireless connectivity is no doubt contributing to the lower pricing. This is not a wireless headset but with its premium price, it is a good choice.
As a consequence, these wired gaming headphones produce clear sound quality with outstanding mids and highs, as well as strong bass, to let you immerse yourself in your game worlds, particularly first-person shooters. Other mediums, like music and movies, are similarly excellent, and the only thing this headset for gaming lacks is wireless capability. Regardless of the media through which you listen to audio, it is still a highly relaxing experience. When it comes to the microphone quality, it has noise reduction built-in and sounds great. Of course, it's not studio mic quality. You will enjoy these magnificent headphones while gaming for sure!
ASUS ROG DELTA Core Gaming Headset for PC, Mac, PlayStation 4, Xbox One and Nintendo Switch with Hi-Res Audio, and Exclusive Airtight-Chamber Design Black
Plastic makes up the majority of the ASUS ROG Delta S headset for gaming. It's also highly adaptable, yet it's made to last. It comes with leather earpads by default, but you may switch to the accompanying velour ear pads if it gets too hot. Its new headband is constructed of stainless steel, which is thinner and more robust than its predecessor. The headband also has a thick rubber cushioning that keeps your head comfy. Finally, you may tweak the hinges to get the perfect fit for your head. The ASUS ROG Delta S Gaming Headset has stunning RGB illumination on the ear cups that may draw in viewers, which is especially useful if you're streaming. It may also be switched between three distinct modes. Soundwave Light Mode (Voice Reactive), RGB Wave, and No Lighting are the options. The lighting mode is easily toggled thanks to a dedicated button on the underside of the left earcup.
ASUS has put in a lot of effort to get consumers to understand the value of their goods. The Headset comes with a USB-C cable that is not detachable for connectivity. Non-removable headset cords may be a pain if they break, however, the braided cable and strong wire on this headset seem quite robust. There's also the USB-C to USB-A 2.0 cable, which increases the range of platforms where your headset may be used. The ASUS ROG Delta S Gaming Headset is made entirely of plastic, making it less bulky and more pleasant to use. The lighting settings of the ASUS ROG Delta S Gaming Headset may be easily altered and modified using ASUS' Aura Sync software. The ASUS ROG Delta S Gaming Headset has a removable AI Noise-Canceling microphone to assist eliminate background noise.
The ASUS ROG Delta S Gaming Headset now has a Soundwave Light Mode that works with music and can also detect and respond to your speech. With four DACs, the ESS 9281 digital to analog converter provides a lot of processing power to a subset of audible frequencies. You may use this to precisely locate enemy locations and gain an edge. The built-in MQA (Master Quality Authenticated) technology is the ASUS ROG Delta S Gaming Headset's greatest selling feature. This allows listeners to hear all of the audio without compression, resulting in the finest HiFi audio experience possible. As previously stated, the ASUS ROG Delta S Gaming Headset is compatible with a wide range of devices, including smartphones, tablets, laptops, desktop computers, and a variety of gaming consoles. Make sure your gadget has a USB-C connector as well. This wired gaming headset provides high sound quality audio to the users. When considering its microphone quality, stereo sound quality, game sound quality, audio quality, lightweight design, and excellent sound imaging, this fun gaming headset will surely be a good option for you.
HyperX Cloud Alpha – Gaming Headset, Dual Chamber Drivers, Legendary Comfort, Aluminum Frame, Detachable Microphone
The HyperX Cloud Alpha was created with durability and comfort in mind from the start. Each moveable element of the headset is protected by strong joints or thick padding, and the band and forks are made of solid metal in HyperX Cloud Alpha. The earcups of The HyperX Cloud Alpha are composed of a strong plastic that is encircled by a metal backing, and they are sealed to your skull with an extremely thick ear cushion. If you're a gamer or work at home in a noisy environment, it's a certainty that you'll want strong isolation, but earpads this deep and soft are an unfortunate rarity. This addition gives you a comfortable gaming experience while giving you detailed sound and blocking ambient noises while using this pair of headphones. Hyper Cloud Alpha is appropriate for casual usage thanks to their detachable microphone, however, they're a little hefty and the colorful branding may not be for everyone. This means even a mobile gamer can use it for comfortable gaming sessions. Also, The HyperX Cloud Alpha provides excellent sound isolation and excellent sound imaging.
The game control mechanism on these comfortable headphones is pretty simple. Hyper Cloud Alpha includes an in-line remote with a microphone on/off button and a volume dial, but HyperX Cloud Alpha lacks distinct notches, making it difficult to obtain the precise volume you want. If you wish to remove the detachable microphone and use Hyper Cloud Alpha for casual use, the controls are quite simple and lack any media/phone call capability, which is frustrating. The HyperX Cloud Alpha headphones aren't the most breathable, so you'll have to take pauses from time to time when your ears grow hot. We believe the HyperX Cloud Alpha is more durable than the other headphones that have a Non-removable Cable system because of the detachable cable that can be readily changed.
The HyperX Cloud Alpha's sound profile is well-balanced and precise. Except for the somewhat over-emphasized high-bass, which makes them sound muddy and boomy, almost the whole bass and mid regions are even and flat. Overall, HyperX Cloud Alpha is good for a wide range of genres and material, however, the recessed low and mid-treble frequencies make certain sounds bland, lispy, and lacking in clarity. The frequency response consistency of the HyperX Cloud Alpha is subpar. This wired gaming headphones' treble response is also heavily influenced by fit, seal, and placement, so you may need to adjust them somewhat on your head every time you wear them. 
The HyperX Cloud Alpha's bass range is quite precise. While virtually the whole frequency range is even and flat, the high bass, which provides warmth, is somewhat overemphasized, giving the sound a muddy quality. Because the degree of fit and seal you're able to achieve affects their bass delivery, the response below indicates their average bass response, and your experience may vary. The HyperX Cloud Alpha provides great imaging. Their whole group delay response is beneath the audibility threshold, delivering a tight bass and clear treble reproduction, according to the GD graph. Furthermore, our test unit's L/R drivers are extraordinarily well-matched. This is necessary for precise stereo field placement and localization of objects (voices, instruments, video game effects). If you are looking for a headset for gaming in the $50-$100 price range, with great audio quality, you should check HyperX Cloud Alpha for sure!
SteelSeries Arctis 1 Wired Gaming Headset – Detachable ClearCast Microphone – Lightweight Steel-Reinforced Headband
The SteelSeries Arctis 1 has a similar appearance to the rest of the Arctis family, although it is significantly less expensive. These premium headsets feature a somewhat different headband design that mimics more basic headphones, and they don't have the stylized joints and yolks that the other Arctis headsets have. The ear cup cushioning, like the rest of the range, is constructed of a mesh-like fabric. This wired headphones headband nevertheless efficiently distributes their weight. The cups have a large range of motion, so you should have no trouble finding a suitable fit. They also include a detachable boom microphone for a more casual appearance. This is a comfortable design that you may consider. 
The SteelSeries Arctis 1 has a very simple and effective audio control arrangement. A volume dial and a mic-mute switch are located on the left cup for audio controllers. The scrolling wheel is simple to operate and stops when you reach the lowest or maximum volume, however, it lacks notches. The mic-mute switch is likewise simple to operate, but it might be difficult to tell which setting you're using without taking them off. This affordable headset is surely a good choice. 
These wired gaming headphones aren't the most breathable, therefore they shouldn't be used when exercising. If you wear them while working out, they will trap heat and make you sweat more than normal. The SteelSeries Arctis 1 game headphones, like other gaming headphones, are extremely large and difficult to transport. They feature big cups that do not fold into a more portable configuration but do spin to lay flat, making them a little simpler to slip into a bag. This is a common issue in the budget headset scene, so it is not a big issue to consider. On the skull, these gaming headphones aren't particularly stable. They're not recommended for jogging since even minor head movement can cause them to come off. Unless you move a lot when playing games, this shouldn't be an issue for casual gaming sessions. The cable is also not removable, it can not be used as wireless headphones.
This pair of gaming headphones provide excellent sound imaging. The entire group delay is below audibility, indicating a tight bass and clear treble. Furthermore, the amplitude and phase response of our test unit's L/R drivers are well-matched, which is critical for the precise placement and localization of objects (voices, instruments, video game effects) in the stereo field. While there is a slight frequency mismatch, most listeners should not detect it. This comfortable gaming headset also provides excellent sound isolation and great audio quality. 
Logitech G533 Wireless Gaming Headset – DTS 7.1 Surround Sound – Pro-G Audio Drivers
Lastly, we will cover one of the vest wireless headphones you can buy in the given price range. This wireless headset belongs to the Logitech g hub. For wireless gaming, the Logitech G533 is a fantastic choice. These comfy headphones offer minimal latency, making them ideal for gaming, as well as an enthralling sound profile that helps bring out the thud and rumble of sound effects without completely drowning out vocals. They also come with a piece of software that lets you tweak their performance. Although it sounds thin and flat, its folding boom mic can distinguish your speech from moderate background noise. You can easily play mobile games on your mobile phone using this comfortable gaming headset!
Considering other cheap headsets, The Logitech G533 headphones appear to be standard gaming headphones. With wide, square ear cups, a large headband, and a two-tone matte and glossy finish, they offer a reasonably attractive style. These headphones are pleasant to use, however they are a little snug around the ears. They feature spacious, well-padded earcups that don't put too much strain on your head, even though they're a little snug. With this comfortable gaming headset, you will experience comfortable earcups with Foam Ear Cushions. With its adjustable headband, it will fit your head and with its cushioned headband it will increase the comfort level.
When it comes to sound quality, these wireless gaming headphones are great in stereo sound, true surround sound, and virtual surround sound. It has a boomy sound according to some users but most experienced high-fidelity sound. The sound profile of these wireless gaming headphones is v-shaped and energetic. They provide a thudding, boomy bass that enhances sound effects in action-packed games. These wireless gaming headphones have a well-balanced mid-range for voices and lead instruments, despite being a touch muddy. Sibilants benefit from their bright treble, which adds glitter and detail. Their accompanying program includes a visual EQ if you want a different sound. The bass accuracy on the Logitech G533 is excellent. The image on the Logitech G533 is excellent. With its powerful sound quality, high-quality stereo sound, and ability to give natural sound, this is the comfortable gaming headset you have been looking for.
These wireless gaming headphones have excellent battery life. They have a 17-hour battery life and an auto-off timer when no music is playing to assist save battery life. Charge times are longer, but if you're in a hurry, you can use them while they charge, which is convenient. It can also be used as a wireless headset. Which is a great addition to these headphones, so you can take them with you to everywhere! It will be great for mobile games as well!
HyperX Cloud II – Gaming Headset, 7.1 Surround Sound, Memory Foam Ear Pads, Durable Aluminum Frame, Detachable Microphone
For gaming, the HyperX Cloud 2/Cloud II headset is adequate. They boast minimal latency, a wired USB connection that can enter the USB port, a somewhat well-balanced audio reproduction, and a fantastic noise-filtering microphone. They're comfortable enough to use for lengthy gaming sessions, but unlike some other popular gaming headphones, they don't offer software support for further customization choices. Their design is also not the most breathable, thus after a while of gaming, your ears may become a bit heated.
The HyperX Cloud 2/Cloud II features a clean and straightforward appearance. This fun gaming headset has also a detachable microphone, making them more convenient for everyday usage. The microphone also acts as a noise-canceling microphone. They are, however, a little hefty, and the colorful branding on the ear cups may not be to everyone's taste. These headphones include large, well-padded ear cups and a similarly well-padded headband. They have a poor control strategy, especially when it comes to gaming. They come with a special in-line remote cord with a USB connection that allows you to adjust the volume and mic level, as well as a Dolby 7.1 surround sound button. They also feature a mute option on the side of the in-line remote that turns off the microphone altogether.
The build quality of the HyperX Cloud 2/Cloud II is excellent. It's tough, but not so tough that it'll snap if you stretch it too much. The ear cups are likewise thick, well-made, and capable of withstanding a few drops without sustaining significant damage. The bass on the HyperX Cloud 2/Cloud II is excellent. The leakage performance of the HyperX Cloud 2/Cloud II is excellent. The majority of their leakage occurs between 800Hz and 3KHz, which is a very small frequency band. Because the total degree of leakage is low, the sound flowing out is quiet and thin-sounding. With it's low leakage, it will give your ears a fest for sure! With it's high-quality audio and high-fidelity sound, it will surely be your favorite headset.
Last update on 2023-01-23 / Affiliate links / Images from Amazon Product Advertising API